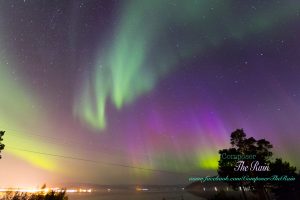 Electric currents originating in such fashion apparently give auroral electrons their energy. The magnetospheric plasma has an abundance of electrons: some are magnetically trapped, some reside in the magnetotail, and some exists in the upwards extension of the ionosphere, which may extend (with diminishing density) some 25,000 km around the Earth.
The convergence of magnetic field lines near Earth creates a "mirror effect" which turns back most of the down-flowing electrons (where currents flow upwards), inhibiting current-carrying capacity.
Some O+ ions ("conics") also seem accelerated in different ways by plasma processes associated with the aurora.
In addition, the aurora and associated currents produce a strong radio emission around 150 kHz known as auroral kilometric radiation (AKR, discovered in 1972).
These "parallel voltages" accelerate electrons to auroral energies and seem to be a major source of aurora.
Other processes are also involved in the aurora, and much remains to be learned. Auroral electrons created by large geomagnetic storms often seem to have energies below 1 keV, and are stopped higher up, near 200 km. Such low energies excite mainly the red line of oxygen, so that often such auroras are red. On the other hand, positive ions also reach the ionosphere at such time, with energies of 20-30 keV.